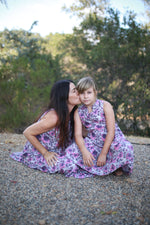 Twinning with Mommy While You Can
Twinning with mom is not a new concept. There was a time when this was common. However, during this period of time it was done more as a tradition and often out of necessity. In modern times this tradition still exists, although the reasons have changed. Let's take a closer look at the history and why twinning, today, is such and fun and interesting concept.
History of twinning with mommy
This trend started in 1908. French fashion designer Jeanne Lanvin gave birth to her child in 1897. As her daughter grew, Jeanne realized that there was a gap in the fashion market and created a high-end children's line of clothing in 1908 that replicated the mother's high-end line. Unfortunately, this trend did not last long as the depression hit, and the high-end line was not successful. During the 30s, mothers and daughters were again wearing matching clothing, but it was due to having limited money to purchase fabrics. Mothers and daughters often had matching clothing due to necessity. Following the depression, the trend of high-end fashion picked back up. During the social media age this trend has changed with celebrities often dressing their children to match themselves. With influencers setting the new trend, moms and daughters everywhere are loving twinning again; this time for fun – but also as an important part of bonding.
Why do moms want to twin with their little ones?
Today more than ever, we take pictures of our loved ones thanks to our smartphone cameras. These pictures are often shared on social media platforms for people around the world to see. Twinning with mommy creates great pictures, and it's plain simple beyond cute in addition to some one-on-one time. When your daughter is older and begins to reflect on who she is and where she came from, looking at these mom and daughter pictures creates cherished memories. Pictures of mom and daughter dressed alike show a sense of family unity, pride, and a bond.
They basically will let you dress them until a certain age, which in my case was about 7, after that I respect her wants and needs. So to put it simply it creates amazing memories until they let you dress them.  
Daughters grow up fast… now what?
One of the hardest parts of parenting is realizing your child is grown up and no longer wants to be around you. Teenagers become a bit more rebellious and begin to try and figure out who they are and where they fit in their world. They no longer want to dress like their mom or act like their mom. This can be a hard time for any mom to go through, but take the time to find something to continue a close relationship. Although the outfits may not be like before, the shared experience of shopping together allows mom to spend time with her daughter as her daughter expresses her own individuality and style. Listing becomes the key to keep that relationship tight.
There's a bonus here too! Young ladies that like to dress on-trend can flip the script and have fun showing mom what to wear. This may be a time for a mother to learn from her daughter about a style refresh. 
When the little girl becomes an adult, they go back into their memory to help them get through new challenges in life. Remembering dressing up with mom,  – and having pictures to look back on to remember it all – this is in the power of fashion. It's not just clothing. It's about love, life, growing up, moving on, and creating the memories today that last a lifetime and more importantly allowing yourself to always feel your best while wearing any type of clothing.  
Conclusion
Raising a daughter can be one of the most rewarding things in life. They are not a mini-me, they are their own person with their own personalities, but often they look up to you! It's fun to wear matching outfits while you grow the bond you share. Moms twinning with their daughters creates a perfect picture moment that has an impact on mom and daughter alike.  For more information and inspiration about twinning with mommy while you can, click here.